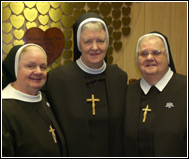 Founders (and Administration) of the Felician School - Sister Mary Loretta Borkowski, Sister Rose Marie Smiglewski, and Sister Mary Ramona Borkowski.
Board of Trustees:
Sister Mary Rosita Brennan
Sister Mary Virginia Tomasiak
Mr. Stephen Lolacono
Mr. Michael Sosa, AIF, PPC
Mr. Chuck Rhode
Mr. Bob Priolo
Mrs. Patricia Whitehead


"Anchored in Love ~ Learning for Life"

Recognized as a "School of Excellence" through NASET.
Founded by the Felician Sisters and approved by the New Jersey State Dept of Education in 1971, Students are enrolled into The Felician School by their local school districts at no cost to the family.
Our Mission: Understanding that all persons have a special gift to share, The Felician School strives to provide a quality educational program to prepare each of our students for their own journey of learning within a climate of acceptance and respect.

"It's hard to believe that sixteen years have passed since my husband and I first set foot in The Felician School. I remember it like it was yesterday. The blessings of our familiy would not be possible without sixteen years of education, therapy, support, guidance, and encouragement from you and the amazing staff at The Felician School. Heather has grown up with you and many of the same staff members. In the words of one parent, Felician is "family". It is a family that nurtured her all the way! Thank you for allowing us to visit you sixteen years ago and starting us on this increadible voyage of discovery!"
"A Parent's Perspective" by Mrs.Kawash - Graduation - June 2015